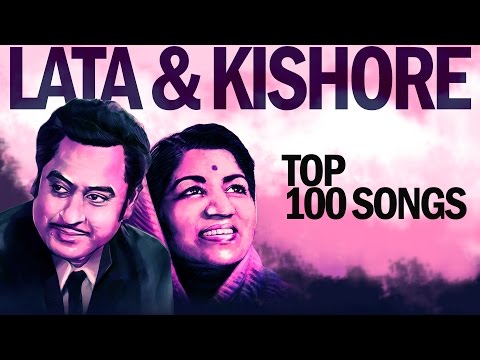 File Name: Top 100 Songs of Lata - Kishore | लाता - किशोर के 100 गाने | HD Songs | One stop Jukebox
Duration: 8.10.48
View:: 6.630.609
Published: 30 Nov 2016
Uploader: Saregama Music
Saregama brings to you the top 100 songs of the two legends in a one-stop audio jukebox.
00:05 Mohabbat Bade Kaam Ki Cheez Hai
04:41 Jai Jai Shiv Shankar
10:16 Ho Pardesia
15:04 Is Mod Se Jate Hain (Duet)
19:56 Salame Ishq Meri Jaan
25:43 Achha To Hum Chalte Hain
30:37 Aap Ki Ankhon Mein Kuch
34:44 Dekha Ek Khwab (1)
36:04 Goom Hai Kisi Ke Pyar Mein
40:15 Kora Kagaz Tha Yeh Man Mera
45:50 Tum Aa Gaye Ho Noor Aa Gaya
50:01 Jiska Mujhe Tha Intezar
54:19 Tere Bina Zindagi Se
01:00:09 Disco 82
01:03:52 Bheegi Bheegi Raaton Mein
01:07:41 Nainon Men Sapna.
01:14:10 Sun Champa
01:19:40 Suno Kaho Suna
01:23:57 Hum Dono Do Premi
01:28:59 Kal Ki Haseen Mulaqat Ke Liye
01:34:49 Ab Chahe Maa Roothe Ya Baba
01:40:19 Shokhiyon Mein Ghola Jaye
01:45:20 Tere Mere Milan Ki Yeh Raina
01:50:12 Gaata Rahe Mera Dil
01:55:02 Sunja Aa Thandi Hawa
02:00:44 Kanchi Re Kanchi Re
02:05:35 Panna Ki Tamanna Hai
02:11:21 Aasman Ke Neeche
02:15:13 Gir Gaya Jhumka Girne Do
02:19:29 Aaj Na Chhodenge
02:24:41 Mach Gaya Shor
02:30:53 Sa Re Ga Ma Pa Ma Ga Re Sa
02:36:05 Chand Raat Tum Ho Saath
02:40:05 Are Jane Kaise Kab Kahan Iqrar
02:45:43 I Love You (Gujarati Mein)
02:52:00 Tujh Sang Preet
02:57:31 Shayad Meri Shaadi
03:04:07 Ho Jata Hai Pyar
03:07:46 Ik Rasta Hai Zindagi
03:13:01 Main Solah Baras Ki
03:18:15 Nazron Se Kah Do
03:23:39 Ab Ke Sawan Mein Jee Dare
03:27:57 Dil Ki Baaten Dil Hi Jane
03:33:20 Koi Ladki Mujhe Kal Raat
03:37:38 Tera Phoolon Jaisa Rang
03:43:45 Karvaten Badalte Rahe
03:48:50 Tere Chehre Se Nazar Nahin
03:53:50 Janeman Tum Kamal Karte Ho
03:59:27 Chana Jor Garam
04:06:30 Kajra Lagake Gajra Sajake
04:11:11 Hum Aur Tum Tum Aur Hum
04:15:14 Chand Churake Laya Hoon
04:18:25 Kali Palak Teri Gori
04:22:45 Parbat Ke Peechhe
04:26:36 Maine Dekha Tune Dekha
04:33:27 Chahe Raho Door Chahe Raho Paas
04:36:55 Prem Kahani Mein
04:41:47 Holi Ayee Re
04:47:11 Chal Dariya Mein Doob Jayen
04:52:04 Aaj Madhosh Hua Jaye Re
04:56:56 Likha Hai Teri Ankhon Mein
05:01:07 Main Ek Chor Tu Meri Rani
05:05:53 Nainon Mein Darpan Hai
05:10:48 Chal Kahin Door Nikal Jayen
05:17:21 Dariya Mein Phenk Do Chabi
05:22:42 Aaj Kahin Na Ja
05:27:08 Ladki Hai Ya Shola
05:31:02 Jo Ho Yaar Apna
05:34:30 Jaisa Des Waisa Bhes
05:39:13 Sajan Ho Sajan
05:43:47 Chandni Raat Mein
05:49:16 Tota Maina Ki Kahani
05:54:32 Dhak Dhak Kaise Chalti Hai Gaadi
05:58:37 Diwana Kar Ke Chhodoge
06:04:29 Bahut Door Mujhe Chale Jana Hai
06:09:07 Sar Se Sarke
06:14:46 Oonche Neeche Raste (Happy)
06:20:04 Jab Jab Hum Tumko Dekha Hai
06:24:50 Mal De Gulal
06:29:23 Dariya Kinare Ek Bungla
06:32:58 Chanda O Chanda
06:36:02 Jadugar Tere Naina
06:41:42 Beliya Ab To Yeh Bahar
06:48:27 Ankhon Mein Kajal Hai
06:52:16 Maaf Karo O Baba Maaf Karo
06:55:44 Din Maheene Saal
07:02:07 Tujh Men Kya Hai Deewane
07:07:25 Kaisi Lag Rahi Hoon Main
07:12:26 Aari Aaja Nindiya
07:19:07 Maine Dekha Ek Sapna
07:24:15 Sultana Sultana Tu Na Ghabrana
07:29:10 Ankhon Men Humne Aapke Sapne (Duet)
07:33:52 Khoobsurat Hasina Jane Ja
07:33:52 Dil Humne De Diya
07:42:15 Paas Nahin Aana Bhool Nahin Jana
07:46:02 Kiska Mahal Hai Kiska Yeh Ghar Hai
07:49:34 Jogi O Jogi Pyar Mein Kya Hoga
07:55:08 Dilbar Jani Chali Hawa Mastani
07:59:45 Mujhe Tum Yaad Karna
08:04:00 Sarakti Jaye Hai
Label :: Saregama India Ltd.
To buy the original and virus free track, visit www.saregama.com
For more Jukebox & Bollywood Songs log on & subscribe
http://www.youtube.com/oldh...
For more videos log on & subscribe to our channel
http://www.youtube.com/sare...
Follow us on Facebook:
http://www.facebook.com/Sar...
Follow us on Twitter:
https://twitter.com/saregam...