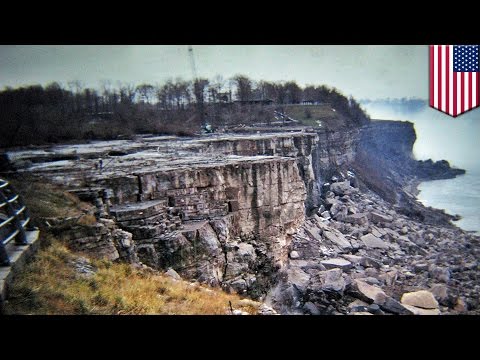 File Name: Niagara Falls dry: American Falls could be shut off for a second time - TomoNews
Duration: 1.27
View:: 131.718
Published: 26 Jan 2016
Uploader: TomoNews US
NIAGARA FALLS, NEW YORK — New York State officials are considering turning off the American Falls, one of three waterfalls that make up the Niagara Falls, for several months in order to replace two old stone arch bridges, reported Buffalo news.
Dewatering the American Falls would require the construction of a cofferdam spanning from the Goat Island to the U.S. mainland in an effort to direct all the water to the Horseshoe Falls. According to the Buffalo News, approximately 85 percent of the Niagara River flows over the Horseshoe Falls on the Canadian side, while the rest moves over the American Falls.
A cofferdam is a temporary dam composed of dirt and rock. In 1969, engineers built a 600-foot cofferdam using almost 28,000 tons of rock and earth to dewater the American Falls, reported the Atlantic.
New York state officials are proposing to divert water from August to December for five months in the first year of a two-year construction scenario, or divert water for nine months, starting from April to December in a one-year accelerated construction plan.
The cofferdam installed in 1969 took three days of 11 hour shifts and 30 workers to complete. It was removed on November 25 in the same year, reported the Atlantic.
----------------------------------------­---------------------
Welcome to TomoNews, where we animate the most entertaining news on the internets. Come here for an animated look at viral headlines, US news, celebrity gossip, salacious scandals, dumb criminals and much more! Subscribe now for daily news animations that will knock your socks off.
Visit our official website for all the latest, uncensored videos:
http://us.tomonews.net
Check out our Android app:
http://bit.ly/1rddhCj
Check out our iOS app:
http://bit.ly/1gO3z1f
Get top stories delivered to your inbox everyday:
http://bit.ly/tomo-newsletter
Stay connected with us here:
Facebook
http://www.facebook.com/Tom...
Twitter @tomonewsus
http://www.twitter.com/Tomo...
Google+
http://plus.google.com/+Tom...
Instagram @tomonewsus
http://instagram.com/tomone...
-~-~~-~~~-~~-~-
Please watch: "Crying dog breaks the internet's heart — but this sad dog story has a happy ending"
https://www.youtube.com/wat...
-~-~~-~~~-~~-~-